July 2, 2016
Allergy relief Loveland Medical Clinic
I finally got around to making this video. Allergies are such a common problem and they make people miserable. If you have asthma they can make your symptoms worse. I use to have to take meds for allergies, but once I started using the neti pot I was able to get off all meds. I like to use the pot instead of the squeeze bottle. The reason for this is that I believe the squeeze can get fluids into areas under pressure and then the fluid cannot get. This then could contribute to increased risk of sinusitis. You can purchase the neti pot as a kit at Wal-Mart, Walgreens, or Target. Once you have the pot you just have to buy the salt packets from then on. I get mine from Amazon.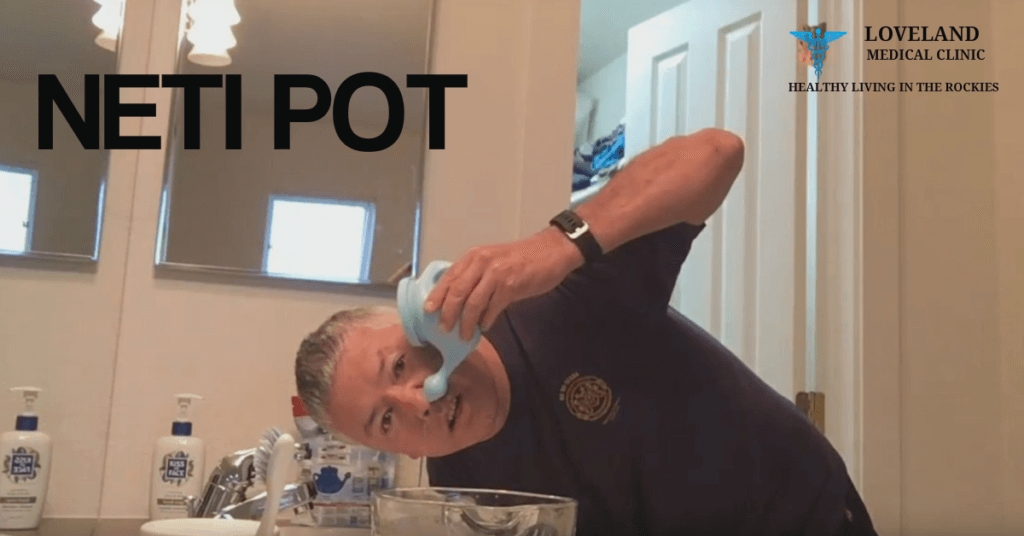 The manufacturer recommends that you use distilled or purified water. There have been a couple of cases where it is suspected that people died from using the neti pot with unclean water and bacteria getting into their brains and killing them. The neti has been around for centuries. I use it daily. Just make sure you have clean water. Heat the water up to a comfortable temperature. Add a salt packet. Shake it up. Insert nozzle in upper nostril and flush away. I use one whole pot for each nostril. Blow you nose gently after each flush. If you have extremely bad allergies you can add Flonase to your morning flush. Wait 15 minutes after you have used the neti pot and then do one squirt in each nostril. I personally find that the neti pot takes care of my symptoms on its own. Believe it or not wikipedia has a great article on the benefits of using the neti pot.
You can read it here.