Click here to get this post in PDF

Call us now for an appointment for
a Vitamin IV infusion (myers' cocktail )
Siegfried Emme, FNP
Loveland Medical Clinic
Vitamin IV infusions are being administered by the  Loveland Medical Clinic.  Vitamin deficiencies can leave us feeling tired and fatigued. Fast food diet, stressful modern life,  and nutrient-depleted fresh foods are some of the reasons why we are vitamin deficient.  You could always take a vitamin pill. The thing is,  our gut can only absorb so much of a particular vitamin at one time and this is usually not enough to make up for our deficit. Because of this, the majority of vitamins ingested gets excreted. I have written multiple articles on specific vitamins and feel free to read away. There are many clinics nationwide(Hangover Heaven in Vegas does iv vitamin infusions), but The Loveland Medical Clinic is in Loveland and our providers are the best at iv therapy in Northern Colorado. 
Treatment process
I arrive and give you a questionnaire to fill out: basic medical questions like allergies, medications, surgeries, and do you have any current medical problems. I set up the  IV bag. Don't be surprised by the pinkish color — it is the B vitamins. I put a small iv into the arm of your choice and the infusion starts.

Most people can taste the vitamins as they go in. Some people describe it as pleasant. If you are being treated for a hangover the medications are added at this time. If you requested some extra nutrients those also are added at this time. It takes anywhere from 30 to 45 minutes for the entire bag to drip in. Most people have to pee at the end of the session because they did just receive a liter of normal saline. Your urine may be discolored by the vitamins for a couple of bathroom visits. Nothing to be concerned about.  The IV is pulled out and you leave feeling energized. 

 
Call us now for an appointment
Check out  our various offerings:
IV Infusions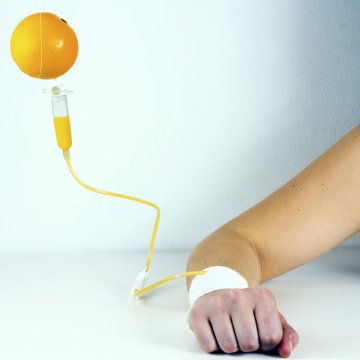 A Myers' Cocktail is a powerful blend of vitamins and minerals designed for intravenous vitamin therapy. Developed in the 1970s by Dr. John Myers, a Maryland physician and used many people all over the world. The Myers' Cocktail has been used to help treat a broad spectrum of health conditions and I use it in our intensive dietary weight loss program. Our blend comes from Partell Pharmacy in Nevada and contains Magnesium, Vitamin C, Calcium, and Vitamins B1, B2, B3, B5, and B12 and is infused with a liter of normal saline. I get one of these every week. While we do not do Vitamin C infusion the Riordan Clinic in Kansas is famous for using high dose Vitamin C in cancer treatment.
$129 basic wellness treatment
Hydration
If you have been sick for a while or have recently done a hard athletic event and need to recover fast we can rehydrate you with normal saline or Lactated Ringers solution. We also can add vitamins, nausea medicine, pain medicine, and glutathione for those who need it.
First bag   99$ the – second bag $50
zofran, Toradol, glutathione extra depending on how much you need.
Mobile hangover cure( jet lag, fatigue, etc)
We will come to you with our special blend and recover you in your home or hotel room. We are completely mobile and usually respond within 2 hours.
$189
Call us now for an appointment for
a Vitamin IV infusion 

A closer look at vitamin injections