July 29, 2017
Click here to get this post in PDF
This is one of my favorite appetizers. It is so simple to make and has a ton of fat. I put 1 small onion on the ingredients but you might want to go with half an onion.
This is so filling that I recommend you only eat one half otherwise you will not be hungry for dinner. If you look at the nutrition information there is 785 calories in this if you eat both halves.
 I recommend using Primal Kitchen mayonnaise because it is the only store bought mayonnaise that does not have vegetable oil in it. They use avocado oil instead which is much healthier. You can usually find that at Sprouts or Whole foods. 
I eat a lot of avocados. What I usually do is buy a bag of 6 avocados and store them in the refrigerator. I take out an avocado 2 days before I am going to use it so that it can ripen. They last a good while if you do this. 
If you are not a fan of crab meat you can substitute Alaskan salmon meat or any other seafood that you like. I hope you enjoy this as much as I do.
In one of my previous posts I explained about keto ratios. That is how many grams of fat compared to total grams of carbohydrates and protein. I said a 1:1 ratio will work for around fifty percent of people but a 2:1 ratio is better. This meal hits the 2:1 mark. Actually, if you take into account the fiber in the avocado this is closer to 3:1. If you are doing a fasting mimicking diet this would work for you.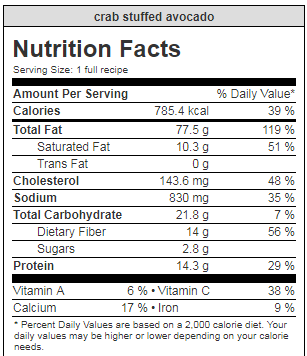 Ingredients
1 large avocado
1 small white onion, finely chopped
1/3 cup crab lump meat
4 tbsp primal kitchen mayonnaise
1/2 lemon
freshly ground black pepper to taste
1-2 tbsp freshly chopped dill
Instructions
Using a fork, shred the crab meat and mix with the mayonnaise.
Mix in finely chopped onion and the dill
Squeeze in lemon juice and season with pepper to taste
Scoop out some of the avocado, chop it up and mix until well combined.
Fill each avocado half with the crab & avocado mixture and enjoy!
https://lovelandmedicalclinic.com/crab-stuffed-avocado-recipe/