January 20, 2018
DOT exams and physicals
Our exams are 99 dollars. There is no waiting. You make an appointment and you are in and out in around a half hour. It depends mostly on how fast you can fill out the government DOT  paperwork. I have made a couple of videos on hints to make your exam easier. If you are healthy do not worry about it. If you have diabetes, cardiac problems, are on meds, high blood pressure, getting up in years, etc. my advice is to have a checkup with your doctor prior to getting this done.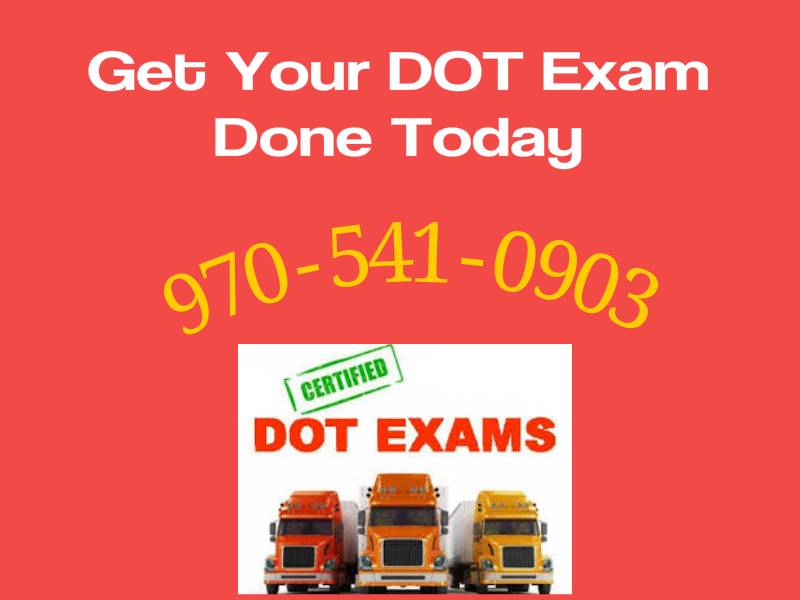 Siegfried Emme, FNP
Loveland Medical Clinic
Video on blood pressure tips for your DOT Exam. 
Truck driver DOT CDL health
Truck drivers need to stay healthy. Start by figuring out your baseline health status.Your body mass index(BMI) tells you a lot. That's basically a calculation based on your height and weight. A BMI  over 30 is known to correlate with all kinds of cchronic healthproblems, High blood pressure, kidney damage that might result from that, high cholesterol, strokes, and cancer are just a few of those health problems.  

You can calculate your body mass index using this BMI calculator. That result should be ideally less than 30. Less than 25 is even better. If you are like many  Americans your BMI is probably more than 30. Don't feel bad because you can change that. By medical standards, that BMI is technically obese. From a baseline standpoint, that's what you want to work on. You want to lower your weight for your given height. If you need help with that we do run the 22 Day Weight Loss Program.
DOT Blood Pressure
The next thing you need to do before your physical exam has to do with blood pressure. At least three weeks ahead of time take your blood pressure. You need to do this multiple days in a row. If you don't have blood pressure equipment at home most Walmarts and CVS pharmacies have the public stations for this.
Check your blood pressure. Check it at different times, different conditions just to see if you're registering high. You need to be below 140/90. If you are above this there is no point in coming in for a CDL physical exam because you will not pass. Schedule a doctor's appointment and tell your doctor that you're a professional driver and that you need some help making sure that your blood pressure is normal.
If you get put on a prescription for blood pressure you will need to coordinate your annual medical check-ups to occur just prior to your recurring renewal CDL physical exams. If you have an ongoing prescription for anything it is a good idea to see your doctor prior to your DOT CDL exam.
Cardiac problems are another thing that can hold up your DOT CDL card. I wrote another post on that and you can read that here. 
Last tips for your DOT exam
Finally, don't  wait until your medical certificate expires before you start thinking about your next DOT  certification exam. Ideally  you want to schedule your annual medical checkup maybe a month ahead of your DOT CDL Physical Exam. That way if anything happens you can get all that taken care of before your certificate expires.
As a professional driver knowledge is power. You need to know exactly what your health status is. It is part of your job. Don't be afraid to get to ask for help. I want you to qualify. If you need get medical assistance to qualify to continue to do your job. I am here to help and if you do not have a primary care provider I have plans to help you get ready for your DOT exam.