May 8, 2017
| | |
| --- | --- |
| | RATINGS |
Price





Concept





Execution





Value





| | |
| --- | --- |
| | TOTAL |





Vendor:
Kobe Sushi Restaurant
PRO:
fresh sushi, great service, reasonable price
CON:
If you are on a low carb diet you might want to avoid the rice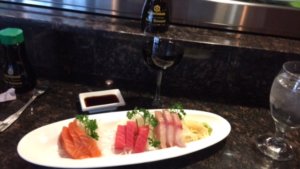 Kobe Sushi Review Healthy Eating Loveland
This is a review of one of my favorite places in Loveland to eat. My wife and I frequently walk to this place since it is only 15 minutes away. We will eat dinner there and then walk back home. One reason I am doing reviews on a  variety of restaurants is that people often ask what can I eat when I am on the 22 Day Weight Loss Program. I alway emphasize that eating whole, unprocessed foods is best. While you are in the weight loss phase you should be avoiding carbohydrates and starches, if you are in the maintenance phase it is ok to cycle in starches and carbs occasionally.
Price
I find the price very reasonable. I love fresh fish and seafood and that has to be flown in so you know it is not going to be cheap. They still manage to keep the prices down. I tend to order the sashimi dishes that are platters and I find them a better deal. I like the Classic and Deluxe platters. You do get a soup and salad with those plates. They have nice lunch specials.
Concept
It is a sushi restaurant. They have a nice sushi bar that you can sit at or nice dinner tables if you prefer that. They serve the typical Japanese cuisine with a splattering of other Asian dishes such as Pad Thai. You can get bento boxes there. Yes, you can eat with chopsticks or a fork and knife if so inclined.
Execution
The restaurant runs extremely well. Lunch times tend to be busy. I really like that the owner/manager gets out and helps the employees. There is convenient parking in front and back with there being more spaces in the back. There  is a rear entrance that you can enter from. I like eating at the sushi bar but not everyone likes that  so you can eat at dinner tables. There is definitely more seating at this place that you think. They also have a back patio which is not currently open. The place just has a nice vibe.
Value
I believe you are getting what you pay for at this place. This is the best sushi restaurant in Loveland. You would have to go to Westminster Colorado to find the next best place to eat sushi. To sum it up great food, great service, and my favorite sushi place in Northern Colorado.
22 Day Weight Loss Program
For those of you in the 22 Day Weight Loss Program I recommend you stick with sashimi. You will have to get your added fats at home . If you are in maintenance phase using the sushi as a carb reload is fine. Remember if you do intermittent fasting that getting nutritious food is important because you need to get your essential vitamins and minerals. Fish is full of Vitamin D and omega 3 fats which Americans are chronically deficient in.  As always if you have any questions post them on our FB page  and I will answer them.