March 6, 2017
| | |
| --- | --- |
| | RATINGS |
Price





Concept





Execution





Value





| | |
| --- | --- |
| | TOTAL |





Vendor:
Slate Italian Eatery
PRO:
best Italian food in Loveland bar none
CON:
It is a little expensive, but worth it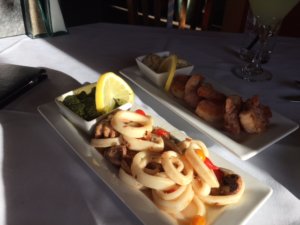 Low Carb Restaurant Review Slate Italian Eatery
Hi, this is Siegfried with the Loveland Medical Clinic. I thought I would write some blog articles on local restaurants for my clients that are on the 22 Day Weight Loss Program and wonder what they can eat when they go out. Some restaurants are easier than others to make low carb and Slate Italian Eatery makes it easy and delicious. With their addition of zucchini noodles now you don't have to cook your favorite Italian meal at home, you can go to Slates. The picture above is of the Calamari and the Shrimp appetizer. Soooooo good. So go out and visit this restaurant and support your local establishments. You can visit their website
HERE.
Price at Slate Italian Eatery
For what you get I believe the price is perfect. If you go on a Sunday it is happy hour all day long. If this restaurant were in Denver instead of Loveland I am sure the price would be double. The wines are reasonable as well and they have a good list. Our waitress Denise helped us navigate the wine list and gave us a great suggestion which we enjoyed.
Concept of Slate Italian Eatery
It is an Italian restaurant so of course you are going to have Italian food. What is good is that they did not try to Americanize the food. The calamari is prepared the way I had calamari in Italy. No breaded calamari, no marinara sauce, just sautéed rings with  baby octopus, sweetie drop pepper, and  salsa verde. It was delicious. A treat to the palate.
Execution of Slate Italian Eatery
You would not think that you could eat a low carb meal at an Italian restaurant. They do not mention it on the menu, but on their website they state that they will substitute normal pasta for zucchini noodles. That is the way I have noodles at home and it is low carb and gluten free. They get 5 stars from me just for that. They are plenty of other options that are low carb on the menu as well such as the mussels and creme plate, the Cioppino(my favorite minus the bread), and the Prosciutto Shrimp that has an awesome garlic butter sauce.
Value of Slate Italian Eatery
Since I live in Loveland it is nice to have such a good restaurant to visit without having to travel to Fort Collins or Denver. The hours are 4pm to 9 or 10 depending on the day. They have a happy hour daily and Sunday all day. I go their just for appetizers sometimes. The fact that I can have a full meal at a restaurant that is Low Carb and ketogenic is a big plus for me. I hope they stick around for the long term.