May 20, 2017
Call us now for an appointment for
a Vitamin IV infusion (myers' cocktail )

What is a Myers Cocktail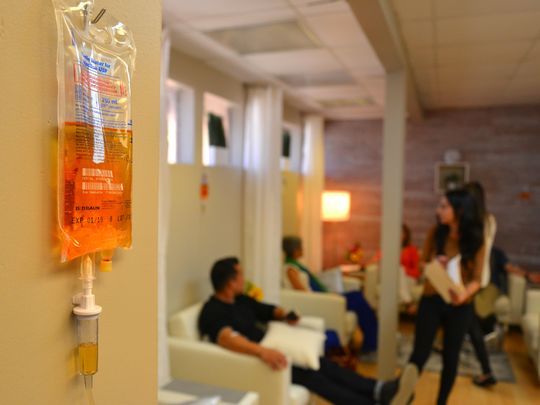 Vitamin IV (intravenous)  infusion, otherwise known as a Myer's cocktail, is a vitamins minerals solution containing vitamin C, a bunch of B vitamins,  magnesium, and minerals. This vitamin infusion is an iv treatment for people that have problems absorbing vitamins because of gut issues and other health problems.  Hangover Heaven Las Vegas IV Specialists uses this for you guessed it, a hangover.  The Myers Cocktail was used by Dr. Myers in Maryland to treat his patients with chronic fatigue, fibromyalgia,  asthma, chronic pain,  arrhythmias and other conditions. The Loveland Medical Clinic is proud to be able to service Northern Colorado with the Myers Cocktail intravenous vitamin infusion.  Partell pharmacy in Las Vegas, NV produces our mixture and they produce the best solution in the country.
Pricing of Vitamin IV Infusions
Basic Myers $114
If we come to you add 60$ to treatment.
Group discounts available. Call for pricing.

Who Benefits from a Vitamin Infusion
Most people can get enough vitamins by taking a multivitamin daily or having a good diet.  Older folks, people with lots of chronic stress, or people eating the standard American diet are probably among the 80% who are deficient in one or more vitamins. By using iv therapy we bypass the gut and get the vitamins directly into your cells. 
Ingredients Myers Cocktail
What makes intravenous nutrient therapy successful are its ingredients. Here is a list of the ingredients in our Myers Cocktail. Vitamin B1, B3, B5, B6, and B12. Added to this is Vitamin C and magnesium which basically all Americans are chronically deficient in. We mix this up in a liter bag of normal saline and infuse your iv nutrient therapy over an hour.
What a Myers Vitamin IV can do for you | IV Hydration & Wellness
Supplementing with the vitamins from  a Myers Cocktail could:
Help you have fewer migraines, anxiety, or depression
Relieve some allergy symptoms and nasal congestion
Help improve muscle recovery and endurance  after a workout
Give you  more energy
Help with  fibromyalgia symptoms
Individuals who want optimal health  can benefit from Vitamin therapy
An infusion of a  Myers Cocktail takes only half an hour and can be scheduled at two-week intervals.
We are located in Loveland, Colorado and would love to make you feel better. The whole process from walking in the door to leaving takes approximately an hour. Enjoy a green tea or espresso while you are here.
Why get a Myers Cocktail
The video below gives a great explanation of the benefits of a Myers Cocktail. If you are on a diet such as the 22 Day Weight Loss Program then a vitamin infusion can replace some of the vitamins and electrolytes you have lost in the first week. If you are doing a low carb diet, which is the recommended diet for people, you will lose a lot of fluids in the first week. When you urinate out a lot of fluids you lose electrolytes like sodium, magnesium, and potassium. A Myers Cocktail can help you replenish some of your losses. 
What I do for health
So what does a medical provider do to stay healthy? I firmly believe that diet is the keystone to everything. I eat a low carb high-fat diet. The reason I eat this way is to control my diabetes. On this type of diet, I have none of the markers of type 2 diabetes and am as healthy as a rat. Yes, when humans are gone the rats will still be here( and cockroaches). I exercise 2 times a week doing a high-intensity interval training session. I walk daily for at least 20 minutes. I donate blood once a quarter. I have actually written a blog post on this you can read here (donate blood live longer). The last thing I do is get a Myers Cocktail once a month. I feel this regimen keeps me healthy in my 50's and allows me to keep up with my teenagers. Unless some new science comes out on a better plan this is what I am sticking with. 
Video On Myers Cocktail
Call us now for an appointment for
a Vitamin IV infusion (Myers Cocktail)

Schedule An Appointment Now

Call us at 1-970-541-0903   to schedule an appointment.  We are located in Loveland, Colorado and would love to make you feel better. The whole process of walking in the door to leaving takes approximately an hour. Enjoy a green tea or espresso while you are here.
Healthy Weight Program
The Loveland Medical Clinic runs a healthy weight program.  The program is partially based on the ketogenic diet and can help you lose weight and reverse type 2 Diabetes. If you are interested in losing weight check out our page or go to 22 Day Weight Loss Program. 
Call us now for an appointment for
a Vitamin IV infusion (Myers Cocktail)

Myers Vitamin IV Infusion Loveland
#LovelandMedicalClinic #MyersCocktail #SiegfriedEmmeFNP #22dayweightlossprogram