October 21, 2017
Click here to get this post in PDF
Last Day of my logging my keto diet

I am glad this is my last day of this log  because  I hate sticking myself for numbers everyday.  I know my numbers are usually good so I do not bother checking much anymore. If you are just starting you need to be checking you numbers.  You need to check your numbers to verify that you are in ketosis. I have lost count of the people who tell me they are in ketosis but when I put it to the test they fall short.

I had a very good night of sleep. When you first start out sleep might be a little difficult. Part of it is that you are wired because you have so much new energy. Get used to the new you !

Woke up at 0600.
0615 ketones 1.7 glucose 87
I usually do not check morning numbers because I have a pretty good dawn effect. Dawn effect is when your body gets such a cortisol surge when you wake up that your numbers are artificially elevated. Surprisingly my numbers were good. 
Made myself a cowboy coffee.  Fat 28gm
Stretching routine
0700 20 minute walk
0900 green tea
1030 Cup of bone broth and half a teaspoon himalayan salt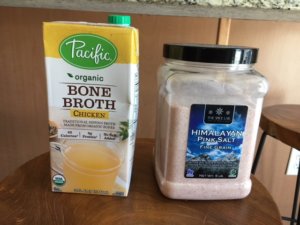 9 gm protein 1 gram carb 900 mg sodium
1145 ketones 2.2 glucose 93( the little bit of protein in the bone broth was enough to bump up my glucose. It is called gluconeogenisis. ). Your body does not use protein for fuel . Your body can convert protein to glucose and then use that for fuel. 
1220 Made myself a cowboy coffee.
1630 3 cups mixed salad(net carb 1.2 g), 2 ounce kimchee, 4 tbsp sauerkraut, ½ cup broccoli sprouts, ¼ cup walnuts
2 tbsp EVOO with 1 tbsp balsamic vinegar( 24 gm fat, 7 gm carb)
1 Wholly guacamole
19 gm net carb  59 gm fat  12 gm prot
2030 ketones 1.8 glucose 81
Pistachios ¼ cup Fat 14gm Carb 8 gm Prot 6 gm
Lots of wine 18 carb
Day totals
Fat 143 g prot 27.5 carb 53.2
Keto ratio carb + prot: fat 1:1.78
1610 total calories.
I only missed my keto ratio of 1:1 in one day out of  7. Almost a 1: 3 ratio.
Steps for the day 11,041 steps.
If you want to review Day 5 and 6 of my keto week here you go. 
Notice that I do drink alcohol. One thing about being keto is that you will get buzzed quicker. Makes you a cheap date. Something else is that I am very picky on my alcohol. I gave up beer and very rarely will knock one down. I pretty much stick to the distilled liquors like tequila, whiskey, gin, and vodka. If I am going to drink wine it is Cabernet, no white or sweet wines. As you can see, I do cheat on a regular basis on a lot of things. On the other hand, I time my meals far enough apart that my body gets rid of my mistakes. 
One week of keto living my style. I think the cowboy coffees for breakfast and lunch help keep me in ketosis. The amazing thing about this lifestyle is the lack of hunger. It makes fasting incredibly easy.  I am actually surprised that some of  my numbers were above 3.0. I have seen them hit 6.0 before but that was after riding 100 miles on my bicycle in the Rockies.  I am also surprised that I never dipped below 0.5. I have been doing this for 2 years and my body is really well adapted. If you have questions please visit our Facebook page or email us at [email protected] 
Google Plus and Maps page