March 8, 2017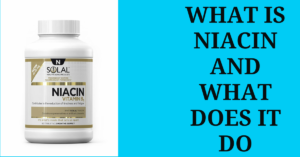 Vitamin B3 Niacin and Weight Loss
Niacin is not popular among drug companies.They prefer to sell you a prescription drug to control your cholesterol instead of you going to a store and buying  a cheap over the counter vitamin. Niacin was discovered when scientists were looking for the cure for pellagra.
What is Vitamin B3 Niacin
B vitamins are water soluble which means they can  dissolve in water. They are not stored in tissues  like fat-soluble vitamins. Instead, excess water-soluble vitamins are filtered out through our kidneys and we excrete them in our urine. So how does niacin work and how does it benefit us? As with all B vitamins, it helps turn food into energy and keeps our hair, skin, eyes, nervous system and digestive system healthy. Significantly, Niacin can also help reduce bad cholesterol (LDL), as well as triglycerides and increase good cholesterol (HDL) in our bodies. HDL helps get LDL out of our blood stream. Niacin appears to help decrease plaque in veins and arteries. This can lead to a  reduction in  cardiac disease.  There is ongoing research  to see if niacin can help with diabetes type 1, Alzheimer's, cataracts and osteoarthritis. The doses being studied are higher than the daily recommended amounts.
Where do we get Vitamin B3
You can find Vitamin B3 in   meats, fish, eggs, and greens. They now fortify breads with this Vitamin but I do not recommend that source if you want to live healthy. Levels of vitamin B3  that are found in food are good for our general health. Unfortunately,  those doses are too small to impact your  cholesterol. If you want to impact your HDL and LDL you should take dosages in conjunction with consultation with your primary care provider. 
The recommended daily intake for Niacin is as follows:
Max daily for anyone  should not exceed 35 mg
Women: 14 mg daily
Men: 16 mg daily
Side Effects of Vitamin B3
B vitamins all work together so it is best to take them in a multivitamin. People with digestive  issues or older people may find it useful to get an  IV infusion of vitamins. 
Niacin can have some side effects. The worst ones  are upset stomach, diarrhea and flushing. The flushing is harmless and will pass. If you take and aspirin before taking the niacin this will stop the flushing. You need to make sure you do not have an underlying  diabetes because niacin can make it surface. Always consult your doctor or nurse practitioner before taking vitamin B3 or any other  supplements.
If you are interested in having vitamin evaluation please give the Loveland Medical Clinic  a call at 970-541-0903.
The Loveland Medical Clinic does weight management and runs a program that is partially based on the ketogenic diet. If you are interested in losing weight check out our programs HERE. 
#22dayweightlossprogram
Facebook page