September 4, 2017
Click here to get this post in PDF
Walmart Medication Overpricing
We all get sick at one time or another. Well , it was my turn. I work in an urgent care and  write a lot of prescriptions. I generally send the prescriptions to the pharmacy that the patient requests. I used to think that Walmart had some of the cheapest medication prices.  Now I know better, but Walmart is not alone in this.  Walgreen's does not have the cheapest prices either  and there is even a class action lawsuit against them for some fancy pricing they have been doing. CVS(usually found in Target) is also part of this litigation for pharmacy overcharging. I am writing this article to not only show you what Walmart is pulling but to show you ways you can save a lot of money on your prescriptions. Your health is your most important asset and you should have some consumer rights to protest the drug overpricing in America.
My Walmart Prescription Experience

Anyways,  back to my story. I got a generic prescription for azithromycin.  There is only 6 pills in one of these packets. Now I have insurance , but like many people we have a really high deductible so we put money into an HSA to pay for small things like this. The bill was for 29.29. I was thinking wow, that is kind of expensive for a generic drug. Too sick to care so I paid it and went home. Since I was stuck at home sick I got on the computer to check prices. Just googled azithromycin prices and the first price I found was for  19.28. Wow, ten dollars cheaper.
Here is how you get that price. You go to Drugs.com and print off a free discount card and now you can  get the discounted price. You can even do it on your smart phone.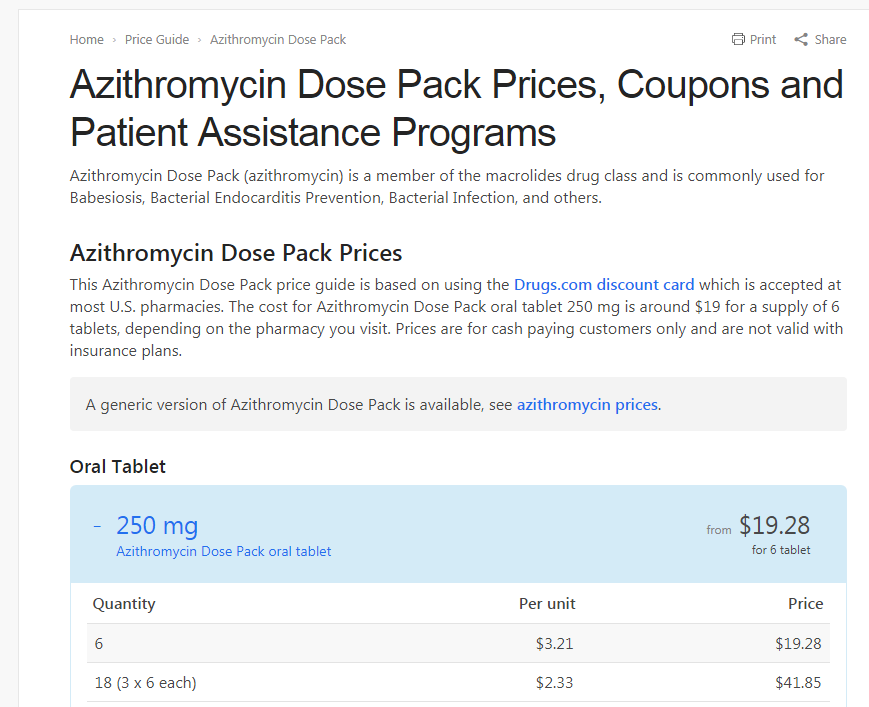 One more recent experience I have had with Walmart pharmacy  happened to me in California. I was taking care of some sick family and I needed to buy a pulse oximeter. That is a tool that tells you a persons' oxygen status and heart rate. Once again I used google and found that Walmart carries a lot of pulse oximeters with prices ranging from 11 dollars to 34 dollars. So I go down to Walmart to buy one. Guess what, they only carry one pulse oximeter on their shelves and of course it is the most expensive one. They know if you are in a hurry you are just going to bite the bullet and buy it which is what I did. 
How To Save Money on Prescriptions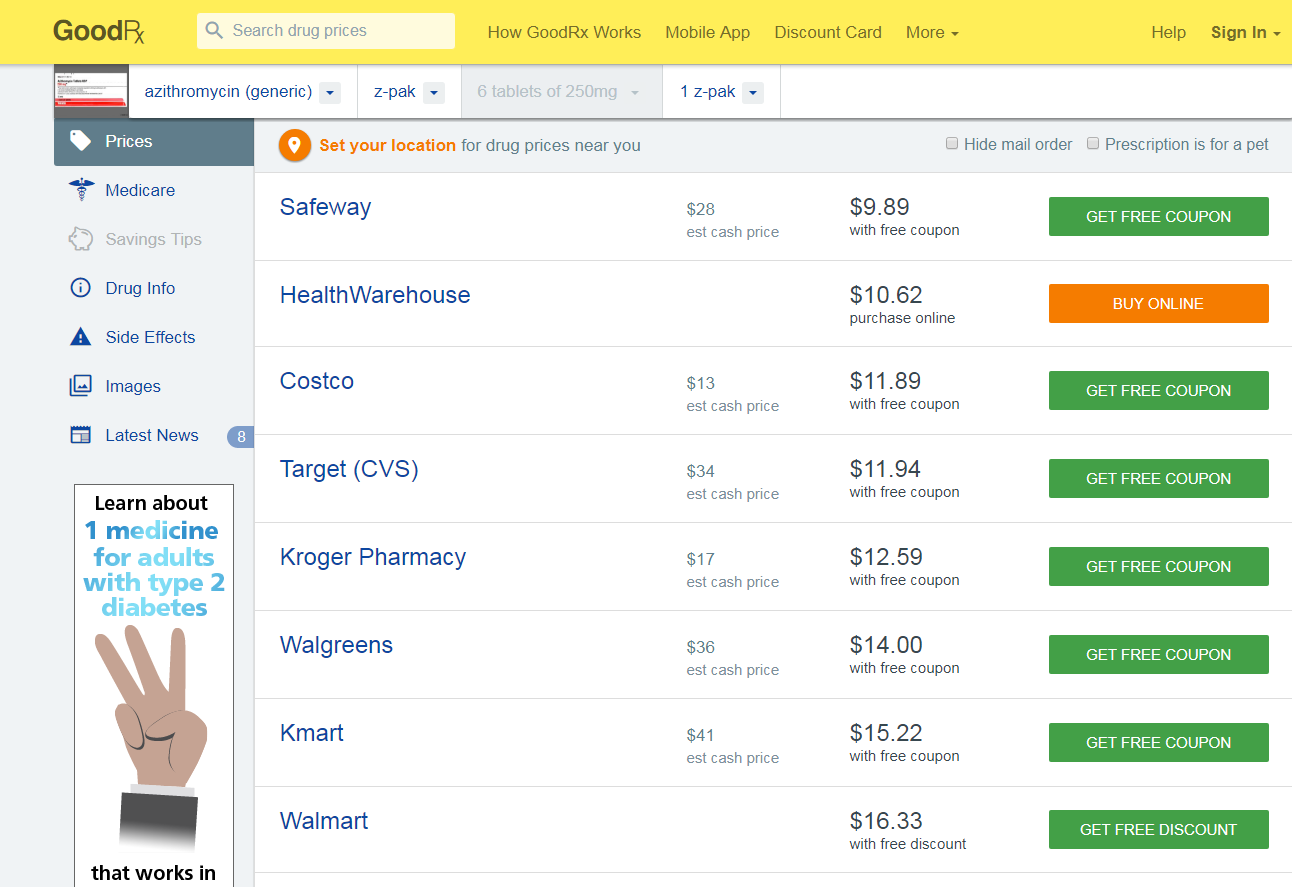 The next site I went to was GoodRx.com. I tell my patients about this because they can save money.  Safeway offers the cheapest price of 9.89 for my prescription. Could have saved 20 dollars if I had made the effort. I know better, but what about all those people who have no clue on how to shop for prescriptions. Most people shop at the pharmacy that is closest to their home which is what I did.  By the way, Walmart even has a free discount and the price is 16.33 with that. Do you think the pharmacist could have mentioned that to me. Talk about poor customer service. So far, this post has been about cheap drugs. Now lets talk about expensive drugs. 
Giant Pharmacy Companies Ripping off the American Public
If you do not believe this I want to sell you the Brooklyn Bridge. Let me explain to you one way this occurs. When a drug is first created it has a patent that lasts 20 years from when the drug was invented. It might take 8 years for the drug to go through all the clinical trials and finally get to market. That is where the pharmaceutical company makes their money. There is a bunch of ways that companies game the system but here is one that should not be allowed. An example is albuterol. It is a life saving drug for asthmatics and it used to be generic. The propellant system used for the inhaler had CFC in it. This chemical has been know to cause problems in the ozone layer. So pharmaceutical companies came up with a new delivery system of the same old drug and now it is not generic anymore. This profited the drug companies billions of dollars and hurt the American public pocketbook. Here is a great article explaining how this all came about.  
Save Money by Buying from Canadian Pharmacies
| | |
| --- | --- |
|  American Price  of Advair 250/50        367.55 |  Canadian Price of Advair 250/50        95.00 |
Have I bought medications from Canada. Yes !! In just this example you save 272.55 dollars per inhaler. That is 3,270 dollars a year in savings. Unfortunately the pharmaceutical lobby has great power and makes getting medications from Canada difficult. Your doctor needs to write the prescription and you have to physically send it to Canada. You also can not pay by credit card. You also have to be able to plan ahead so you do not run out of your medications. But is it worth it ? It was to me !
Here are what some detractors say about buying from Canada. The biggest one being can we rely on the quality of the drug ? What…. do you think Canada is a third world country ? By the way, if you look at the Canadian Pharmacy sheet you will see that the drug is made by GSK in Turkey who also is the manufacturer for the drug in America. Absolutely no difference. 
Below are some pretty good videos on the topic of drug overpricing. Have fun with it. Loveland Medical Clinic has the philosophy that we want to get people off drugs , not put them on new ones. Our nutrition program accomplishes this. If you are interested click on the bar at the bottom of the page.