August 20, 2017
 History of the ketogenic diet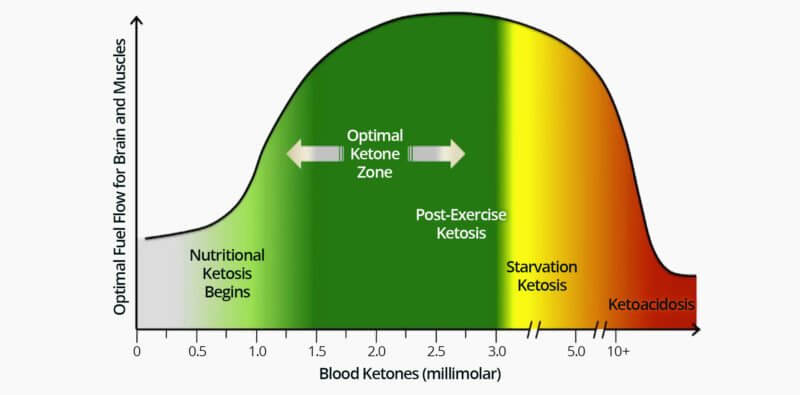 Ketogenic diet is a low-carbohydrate diet,  high-fat, moderate protein eating plan. I will emphasize Moderate Protein. This is where it differs from the Atkins diet. Many providers confuse ketoacidosis with nutritional ketosis. You can see from the graph above that they vary by a factor of 10. Also ketoacidosis occurs when there is high glucose and ketones together. This does not happen in nutritional ketosis.  It was used in the 1920's  to treat kids with epilepsy. The ketones that are produced on this diet have an amazing affect on the nervous system.  Today bodybuilders are  using this diet to eliminate any fat on their bodies. This diet forces the body to switch from burning  carbohydrates to burning fat. When the body does not have any  glucose  available it  uses the liver to convert fats to fatty acids and ketone bodies. Our bodies are designed to burn on these fuels through evolution. Ketogenic diet today is being used  to treat pediatric epilepsy patients that are failing drug therapy. Children on a keto diet  have had positive results in reducing the number of seizures. This post will be focusing on a ketogenic diets as  a lifestyle choice to maximize your weight lost and improve your insulin resistance.
What  is ketosis

The purpose of a  ketogenic diet is to put your  body into a state of ketosis.  Ketosis is when your body is burning  fat for fuel instead of using glucose. What you see in the picture above are three ways to measure and see if you are in ketosis.  Ketones are the water soluble fats that can cross the blood brain barrier and are a very clean source of energy. Most of us use  glycolysis  for energy. This  is when the body uses  glucose for energy and it is not a clean source of energy. The majority of the  cells in our body can  use both ketone bodies and glucose for fuel. Your brain and your heart actually prefer to burn ketones as it is a more efficient fuel.  Red blood cells are one of the exceptions because they do not have mitochondria and therefore have to use glucose for fuel. When we eat excess carbohydrates we have too much insulin is production  which blocks the release of fat for fuel. When we are in  ketosis our bodies uses the fat reserves for fuel .
Ketogenic Diet Macros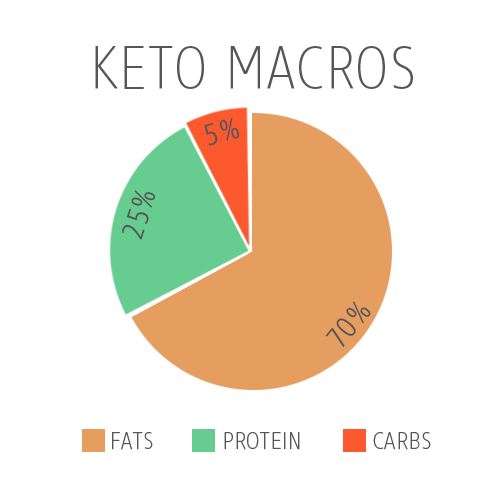 A  ketogenic diet is low in carb, moderate in proteins and  high in fat. I emphasize this is a high fat diet.  Eating between 30-50 grams of carbohydrates per day would meet this requirement and keep your blood sugar low.  This can be really tough for a lot of people. The Standard American Diet(SAD) is full of  carbs! The SAD  has led to out of control obesity, diabetes, alzheimers and many other chronic diseases.  The main types of Ketogenic diets are  the targeted keto diet (TKD) and the cyclical keto diet (CKD). People who do intense workouts should eat carbs right before and right after the workout and use the targeted keto diet approach. Cyclical keto diet cycles in and out of ketosis and is probably the best diet for long term use. This is what I use and teach in the 22 Day Weight Loss Program. Your intake of fats should be between 60-70% of your daily calories, proteins based on your lean body mass,  and carbohydrates no more than 50 grams daily. Some people will have to be below 20 grams of carbs to get into ketosis. These are the people that can't even use net carbs, they have to count everything.  Everyone is different.
Problems with a Ketogenic Diet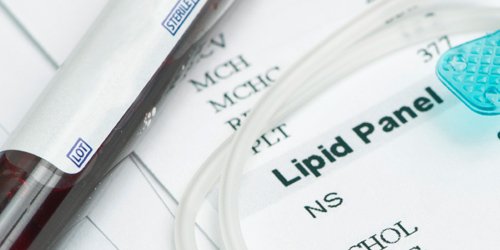 Every diet has issues and the  ketogenic diet is no exception. Some people believe this diet is all about butter, bacon, and meat. You still need your vegetables ! If you do not eat vegetables you can become deficient in micronutrients such  as thiamin, folate, calcium, potassium and magnesium. Taking  a daily multivitamin and supplementing your electrolytes is a good idea. I actually do a bone broth with a half a teaspoon of Himalayan salt everyday. This is a good way to prevent the keto flu.  The good news is your cholesterol  profile should improve while on this diet. Specifically , your HDL will go up and your triglycerides should come down. Some other good news is that you will lose weight.   You should always be tracking your numbers when you make a lifestyle change. Labs, weight, how you feel, how much exercise your getting in , and sleep. I really like using a fitbit to help with this.  There are many variations to the keto diet and you should consult your primary care  provider to make sure that you don't have health issues that would cause problems on this diet.
If you want to see what someone on a ketogenic diet eats for a week I tracked myself for a week. Everything I ate and my blood values are written down in this post. You can check out  my keto week  here. 
The Loveland Medical Clinic does weight management programs and runs a program that is partially based on the ketogenic diet. If you are interested in losing weight check out our page .