October 19, 2017
Oct 6 2017 Day 3 Keto Lifestyle
Woke up at 0540.  Stretching routine
0600  Made myself a cowboy coffee.    Fat  28gm
30 minute walk
Wim Hoff breathing (52 pu). Here is a post about what I am doing.
1200 HIIT workout 30 minutes. Here is an article I wrote on this. 
1300 Cowboy coffee  Fat 28 gm . Notice how I bump up my fat with the coffee. 
1610  ketones 1.8  glucose 87
I am still in ketosis despite what I ate last night and eating basically 100 gm of carbs yesterday. I believe the reason is that I had nothing but fat today and the short but intense exercise I did burned up my glucose and boosted my ketones.
1700  martini 11.6 carbs
1710  Macadamia nuts and cream cheese wrapped in salmon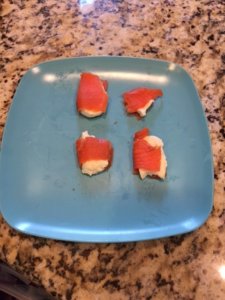 Notice how I made my snack really fatty. Macadamia nuts can also bump up your fat content of the day, especially when you are new to ketosis and want to stay there.        
Fat  31 g  Prot 3.7  carb  3.2
One small chicken drumstick as well
Fat 4gm  prot  10 gm
Dinner  Cauliflower rice with eggs and pepper and guacamole
Fat  36 gm  Carb 12   Prot  17.3
Pistachios . I do love my nuts. I buy these by the bag at Costco. 
Fat  14gm  Carb  8 gm Prot  6 gm
Dark Chocolate 85%. I try to only eat chocolate that has at least 80 % cacao in it.  
Fat  19g  Carb  17g  Prot 4 gm
I should mention that I use net carbohydrates. To figure that out you take the total carbs and subtract the fiber to get net carbs.
Late night   couple  glasses of Cabernet 18 carbs
Day totals
Fat  160 g  prot  41 carb  69.8
Keto ratio  1:1.44    1883 total calories.
Steps for the day 10,474 steps.
I probably could dump the fitbit now because I am pretty consistent on a daily basis with my steps. I do like the way I can measure my sleep with this though. Sleep can really screw up your weight loss progress. Ideally you should be getting 7 hours a night of good sleep. 
Oct 7 2017 Day 4  Keto Lifestyle
Woke up at 0700. Late start. 
Stretching routine. Notice how consistent I am with this. Had a bad accident a few years back and if I did not stretch daily I would be having problems. 
0730  Made myself a cowboy coffee.   Fat  28gm
0830   30 minute walk
1100  Cup of bone broth and half a teaspoon himalayan salt
9 gm protein 1 gram carb 900 mg sodium
1300 Made myself a cowboy coffee.
Fat  28gm
1500  Wim Hoff breathing (45 pu) meditation
1715  ketones 2.8  glucose 80
1730 Deviled eggs made with mayo, honey mustard, hard boiled eggs,cherry peppers,  and crabmeat.
Fat 24 gm  Prot 14 gm carb 3.75 gm
1730   martini 11.6 carbs
1 ou almonds
Fat 14 gm  Prot 6 gm   net carb 2.5 gm
1900 ¼ pound hamburger with half avocado , portabello mushroom, cheese, pickles and lettuce with a side of asparagus. The portabello mushroom is a great substitute for a bun. Sometimes I just use a lettuce wrap to my burger. 
Fat 57 gm  Prot 19.25 gm   net carb 3 gm
Lots of wine  18 carb
Day totals
Fat  151 g  prot  48.25 carb  38
Keto ratio  1:1.76    1703 total calories.
Steps for the day 13,516 steps.
 Some great success stories in the videos below. I believe anyone can succeed in this by themselves. My clinic exist just to aid those people who need a little bit of direction. Also, if you have diabetes or other chronic illness' I little medical supervision is probably advisable before you undertake a program like this. 
Day 5 and 6 Keto Diet Lifestyle here.